JetztZahlen
Payment via personalised payment links
---
Starting 2015, Better Payment has been offering an innovative solution for Pay Later payment models with JetztZahlen - No e-shop required. The idea of JetztZahlen is to make the payment of outstanding amounts as convenient as possible. The goal is to ensure convenience in the payment process even if the time of purchase and payment differ. This enables customers to pay invoices online using the most popular payment methods.
Are you interested in our JetztZahlen solution?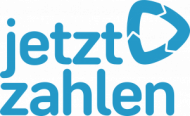 What can the JetztZahlen solution do?
With JetztZahlen you can create clearly laid out one-page payment pages in your look and feel. Quick and easy!
Payment by link
Optimize invoice payments, increase the payment convenience for your customers and thus achieve faster payment.
Selection of all supported payment methods
All common payment methods are integrated in the payment link - enable your customers to choose.
Optimal solution for dunning
Make it easier for your customers to pay invoices. They can pay outstanding bills quickly and easily while surfing the Internet, visiting social networks and reading emails.
Marketing potential
Use the payment process to advertise products and offers and increase your sales.
How does JetztZahlen work?
---
Customizable payment pages for the most convenient online payment of invoices, reminders and donations without e-shop. In the following video you will find an overview of the possibilities of JetztZahlen.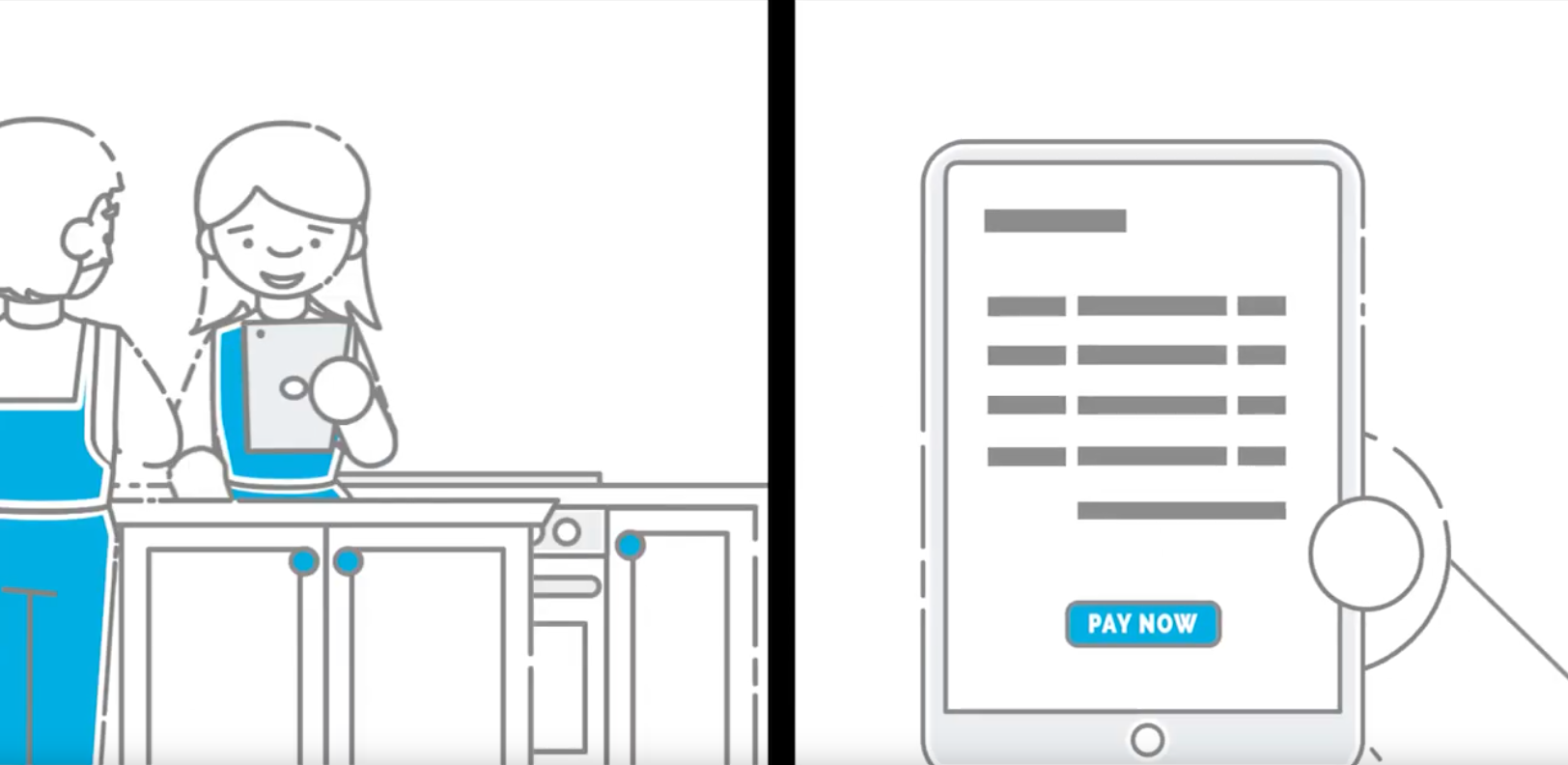 Receive invoice

Your customers will receive the invoice from you as usual by mail or as a PDF by e-mail.

Enter code / Call up personalized link

Customers who receive their invoice by mail enter the invoice code at jetztzahlen.de. Customers who receive an invoice by e-mail simply click on the personalized link.

Pay online

The invoice is paid online with the customer's preferred payment method, with just a few clicks!
NEW: JetztZahlen Webinars
The Better Payment support team has been offering regular webinars for the Payment Solution JetztZahlen since February 2020. You can get to know the backend of our payment pages. We run JetztZahlen webinars once a month. This is a general introduction to the options and configuration of JetztZahlen.
You would like to participate in the webinar?
JetztZahlen Demo
Test our JetztZahlen solution live using a fictitious example, the electricity provider "Better Energy":

The fictitious electricity provider "Better Energy" has sent its bill to a customer who can now easily pay his electricity bill from anywhere and at any time.

Have fun testing!
start demo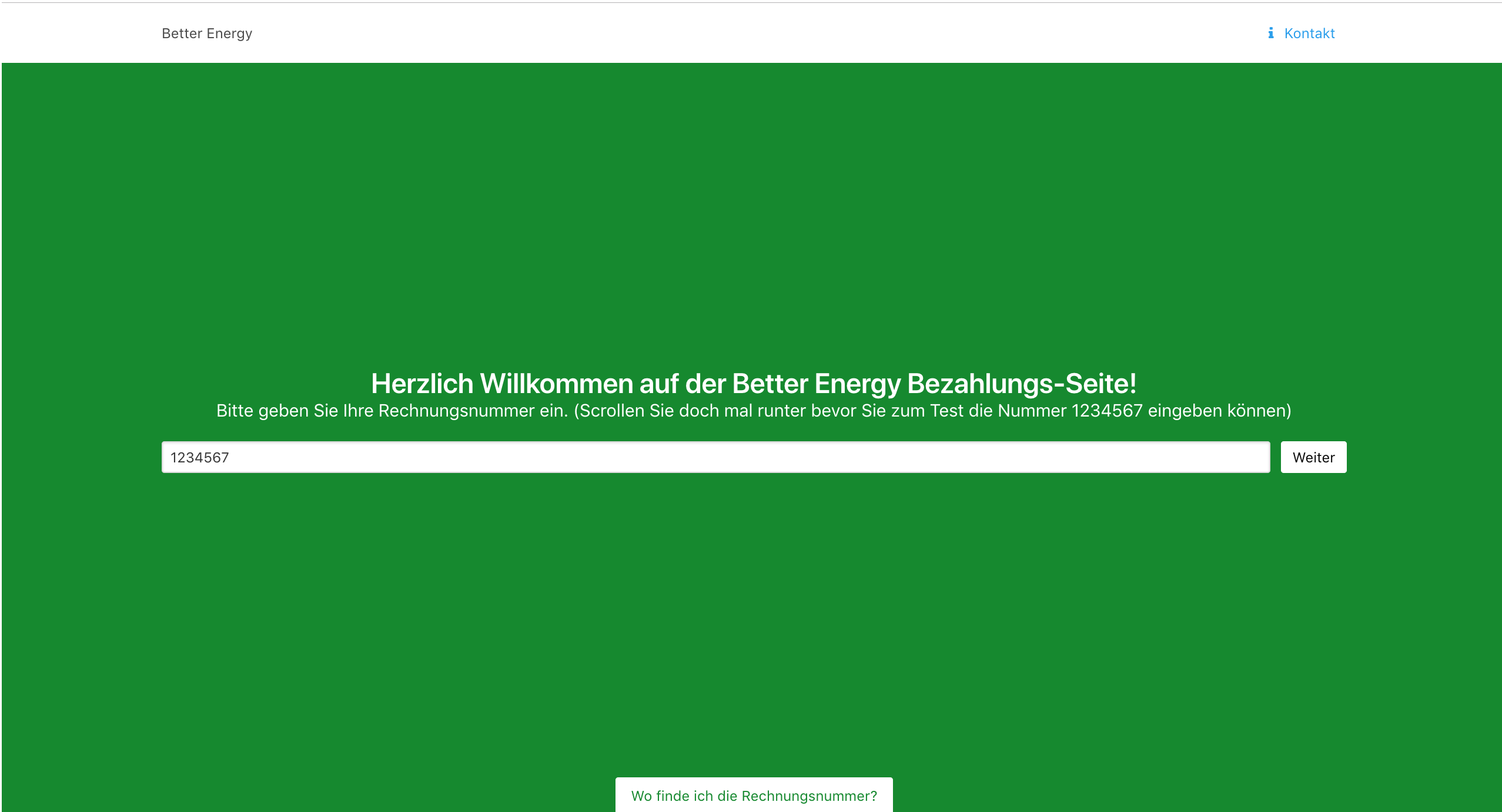 Case: Persil Service Online
---
The Startup Persil Service offers an online laundry service where customers can conveniently send their laundry by DHL for cleaning and receive it back perfectly cleaned within three days. This case shows the option of a direct link from the e-bill to the JetztZahlen page.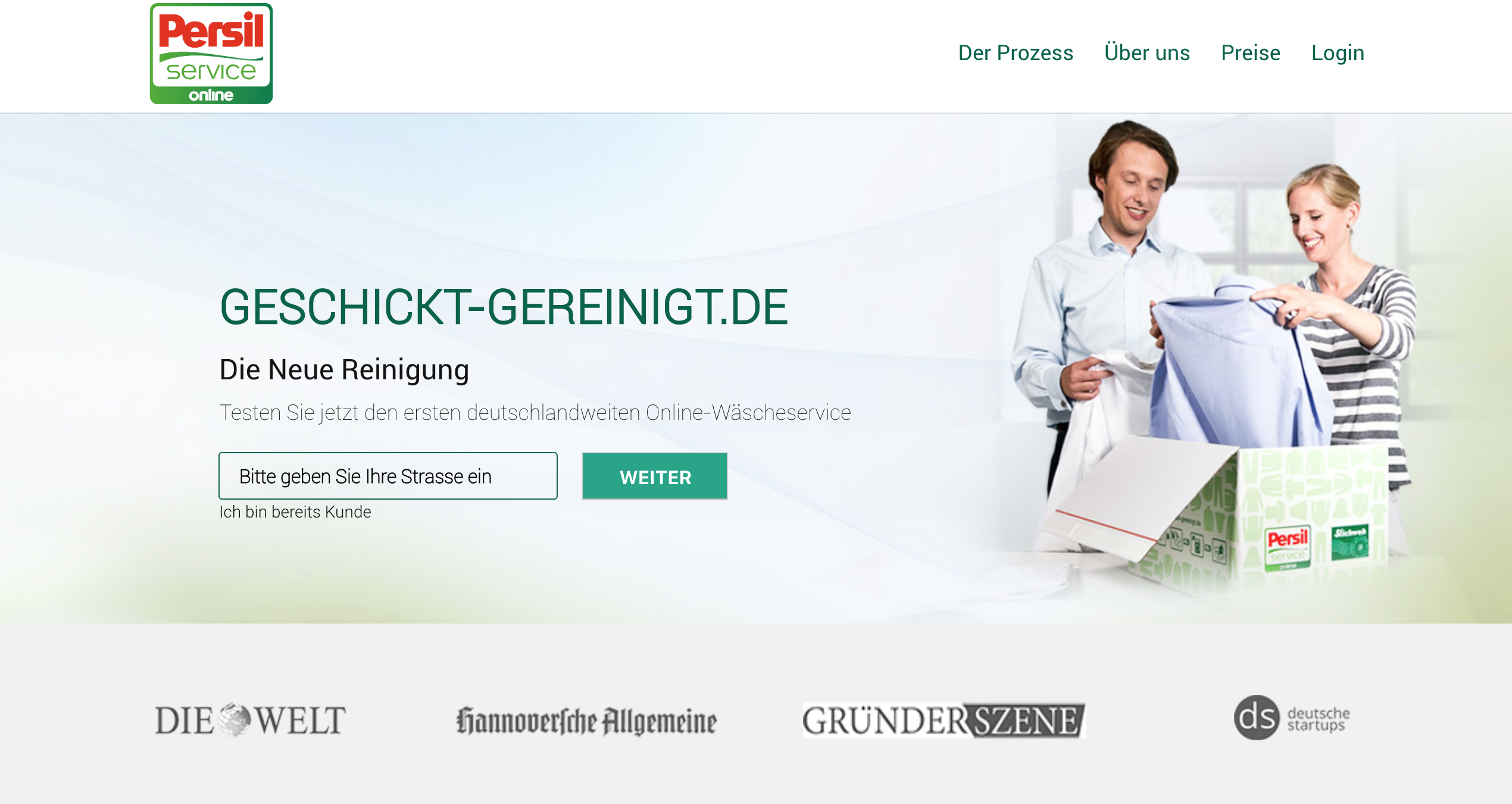 01
Challenges
The process of online laundry and dry cleaning is kept so simple for the customer by shipping via carton that a checkout and the indication of payment methods are not even necessary. In addition, customers do not want to pay until they receive the clean clothes..
02
Skillfully cleaned ...
In the process of online laundry and dry cleaning, customers receive an order and shipping confirmation. This way they are always informed about the current status of their order. Customers who have decided to pay via JetztZahlen receive a link to the personalized JetztZahlen payment page with the shipping confirmation via e-mail from Persil Service, geschickt-gereinigt.de.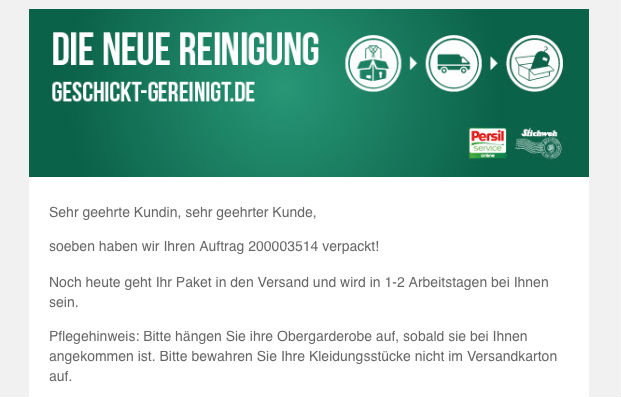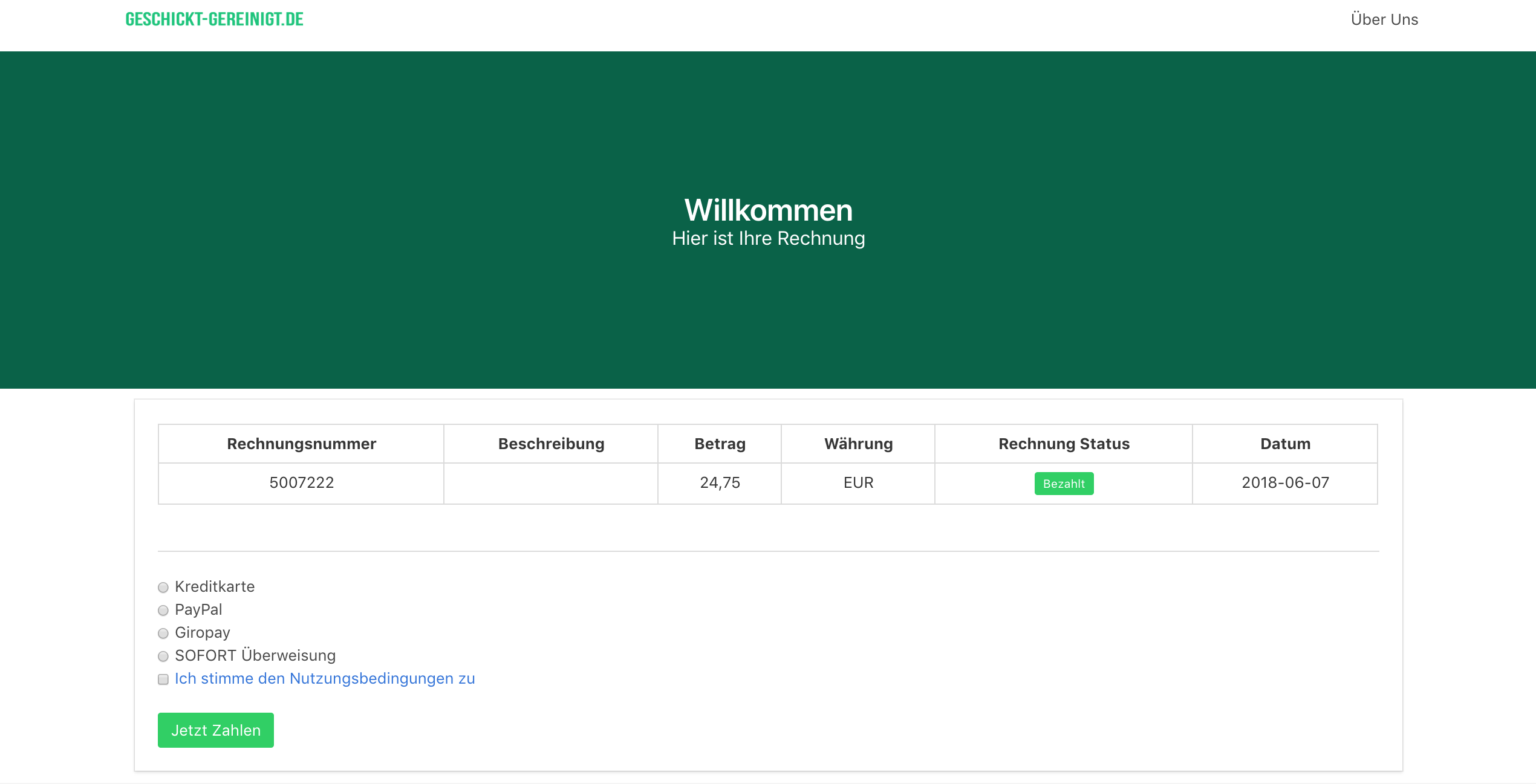 03
... and simply paid.
Customers can open the personalized JetztZahlen link with one click and easily pay for the cleaning with their preferred payment method such as credit card, PayPal, Giropay or SOFORT - without having to enter the order number!
Case: Creditreform Hamburg
---
The product JetztZahlen as a modern and customizable solution for payment in the collection business. This case shows you the option of linking to the general JetztZahlen page and a workflow with entering a file number.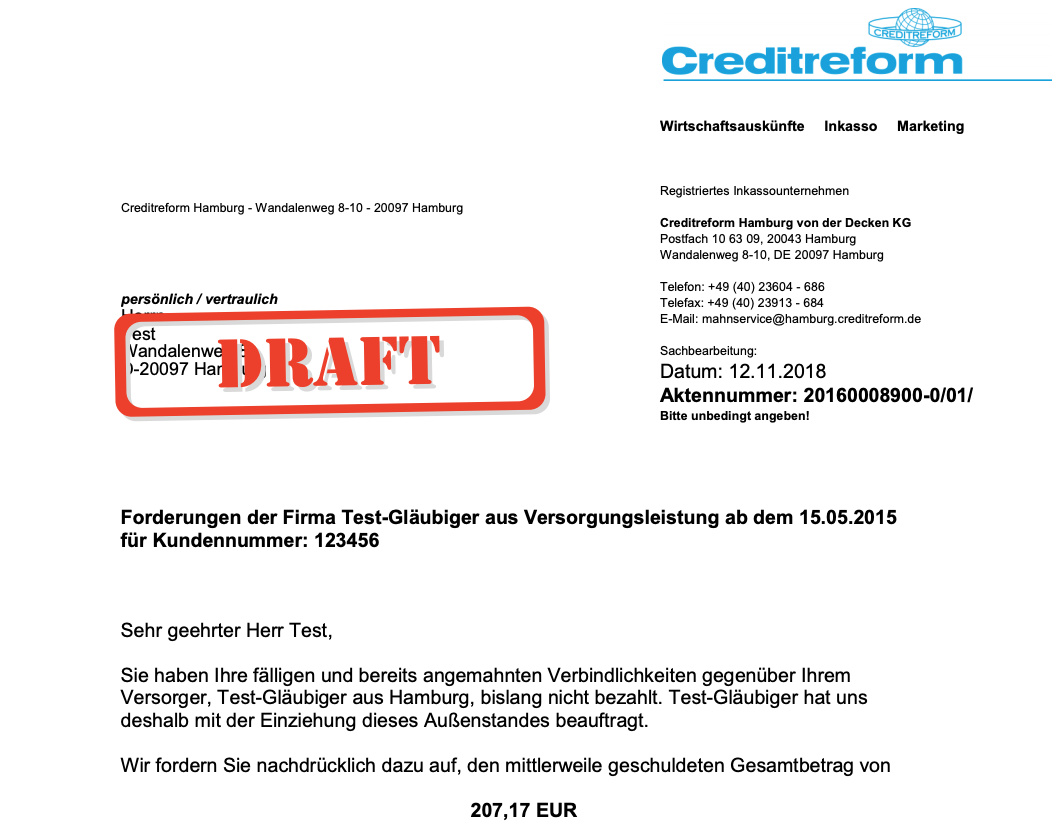 01
Requirements
Provide the addressed group of people with a simple and fast online payment option. Information portals with a payment function must be strongly secured due to data protection requirements, which results in an extensive and time-consuming registration process. This can be a deterrent.
02
Erhalt der Zahlungsaufforderung per Post
In a letter by post the customers receive a reference to the payment portal crhh.jetztzahlen.de and the associated file number, whereby also the payment options available are listed for selection.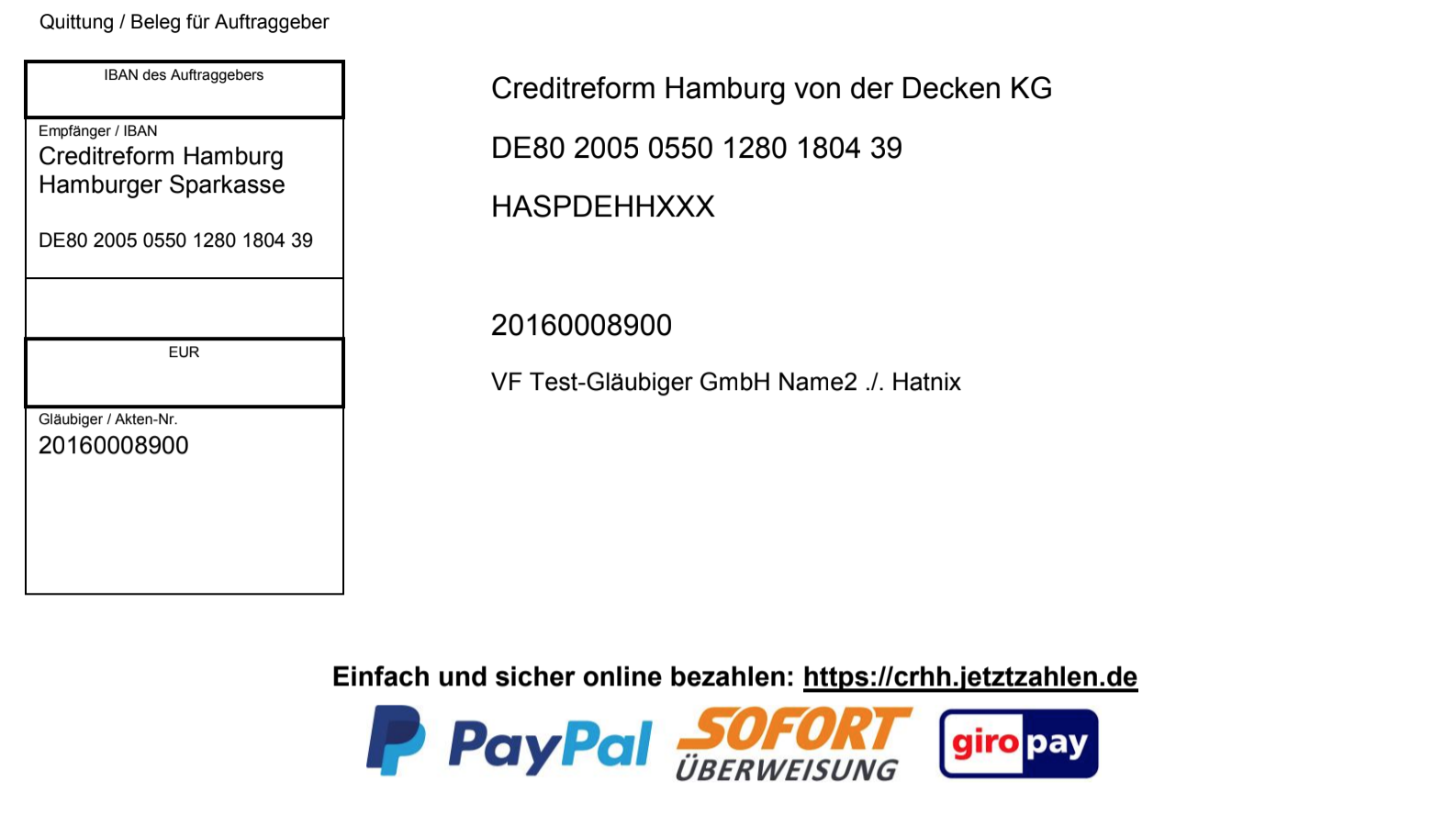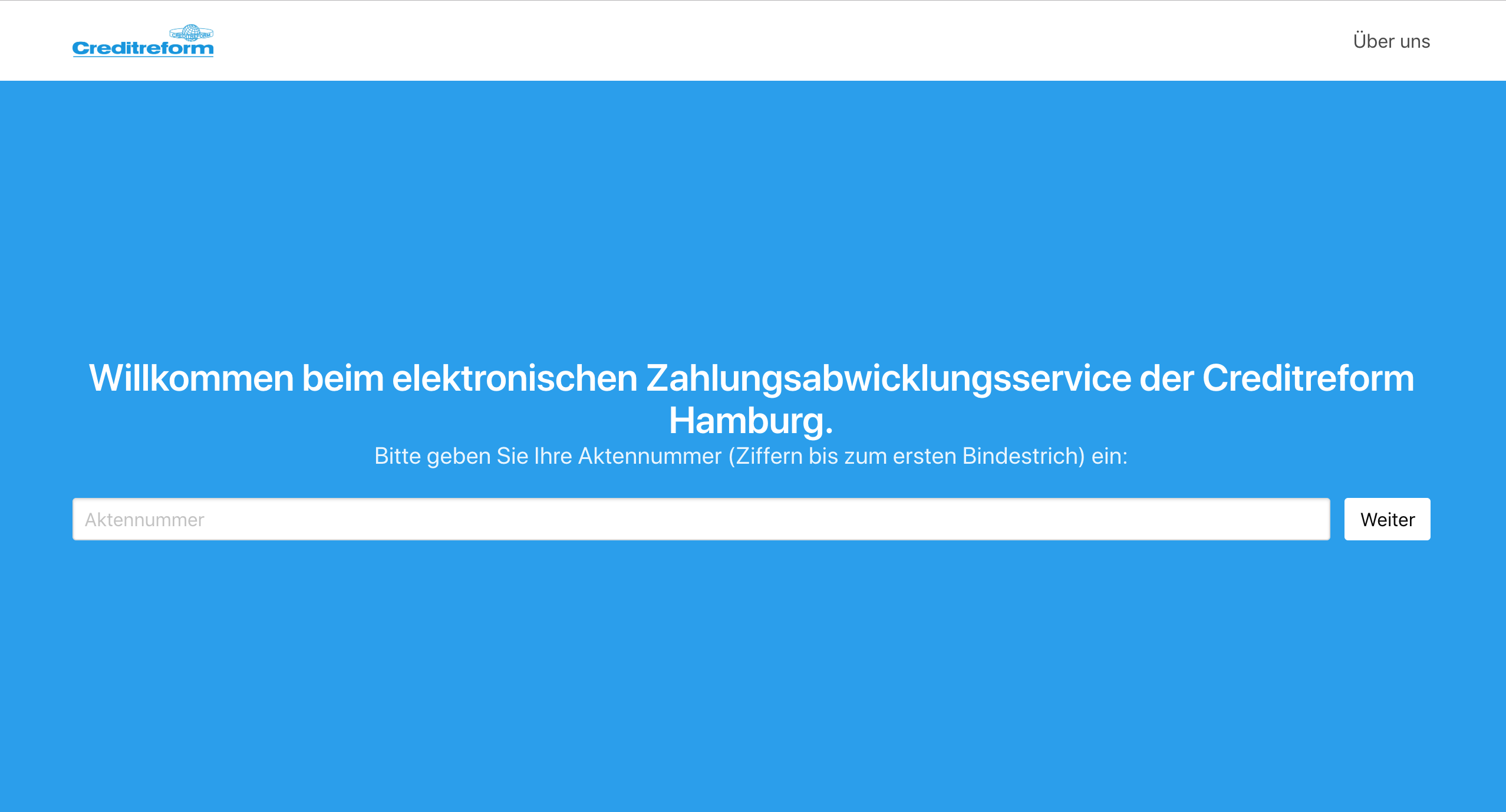 03
Simply paid online
They can then call up the outstanding amount by entering the file number and pay the outstanding amount quickly and easily online.
Increased liquidity
he simplified way of paying invoices supports faster payment by the customer
Your Look & Feel
You can customize the individual payment pages and design them according to the color scheme of your company
Simple design
Due to the simple configuration no programming knowledge is necessary
Benefits for your customers
Easy & Fast
Your customers can pay invoices and reminders with just a few clicks
Anytime & Anywhere
Payments can be made easily and quickly by your customers anywhere and at any time
All payment methods
Your customers can pay their bills online using the most popular payment methods